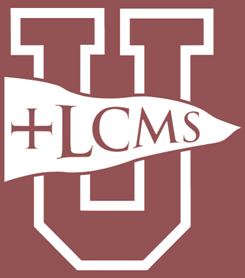 Bible Studies
Morning Coffee & Devotion
Thursday @8:30am (MUC South Lounge)
Campus Bible Study:
Thursday @6:00pm (Old Main – Rm 214)
Worship
Sunday Morning @10am:
We celebrate the Divine Service with Holy Communion every Sunday at 10am. Join us for worship as we praise God & receive His gifts.
If you're a student, planning to attend USD, or want to know more about LCMS-U…
Please let us know!! Send us an email at Lcms.u.usd@gmail.com

The Essentials
Concordia Lutheran Church gathers for worship at 7 S University St – Vermillion, SD on Sundays at 10:00am. Every Sunday, we celebrate the Divine Service with Holy Communion using one of the service orders from the Lutheran Service Book.
Holy Communion
Concordia celebrates the Sacrament of Holy Communion each Sunday. Because partaking of Holy Communion in a church-body is a profession that you agree with the doctrines of that particular church-body, visitors and guests who are not currently members of another congregation of The Lutheran Church—Missouri Synod are kindly asked to please make an appointment to visit with the pastor before taking communion at Concordia.
"For more information you may consult the tract Questions About Communion Attendance."
Kids
Often, guests and prospective members ask if children are welcome in the worship service. Of course, what they mean is, "My child is young and can sometimes be 'active'. Will this upset anyone in the church?" No! We love having children in worship, learning that it is a place for them to be and learning to participate in the worship service as they grow. The sounds of children in worship are the sounds of a growing church!
Parking
Parking is available on both University St. and Main St. We are also within walking distance of the campus (3 blocks south) for any students interested in joining us for worship.